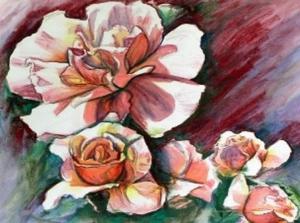 I painted a tonal impressionist, Alla Prima rose tonight, with two cats keeping me company.

Valentine watching me on my right and Tabby kitten watching on my left. I must have taken at least thirty progress photos to put together a film clip, to show the progress—while I wait for video equipment to arrive. But, the iPhone hasn't sent the photos. It I seems that either the phone is not working properly or our internet isn't powerful enough.

As I cannot show the oil painting that I painted tonight, this is Just Joey, painted in watercolour pencils created one lazy afternoon while sitting chatting in the garden with a friend.

~~~

I travel extensively to draw inspiration for my paintings and writing from life experience.
You will discover my Australian rural-lit novels at www.rural-lit.com

​Ryn Shell.