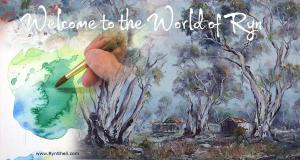 I regularly travelled through this sheep grazing district when returning south from an annual art exhibition and painting tour that began in Adelaide at Easter, then returned home for a mother's Day exhibition in Ballarat at our Buninyong Gallery.

Following these South Australian and Victoria exhibitions, I packed a trailer with art and took the exhibition inland on tour through Charleville, Cloncurry, Mount Isa, Alice Springs, Katherine and in Darwin. Any stock that I had remaining after the Darwin show, I donated to charity. Then I'd go to the Darwin airport to pick my husband Reg up, who had been working hard, running the Buninyong Gallery while I had fun on tour, and we holidayed all the way home, taking in the wonders of the Northern Territory of Australia.

Sigh, wonderful memories. We would tour through the outback seeing all the national parks and wilderness places.

Wilmington was close to where we turned east to return to, and re-open our Buninyong Gallery for Spring exhibitions, with an exhibition in the cities of Sydney or Melbourne close to Christmas.

We followed this run for many years, loving the lifestyle, and occasionally I'd exhibit and paint further afield in the United States. Eager to discover Western Australia, we closed Buninyong Gallery and took our art exhibiting and painting tour on a wider circuit of the country for many years, before retiring from personal appearances at art exhibitions,so that I could write full-time and complete my novels.

The painting is in naturally soft, early morning in the bush tones. Museum quality prints are available.
Can you hear the magpie chorus I listened to as I camped here for a few days while painting this?
The original has sold. I was delighted that it has gone to a long time collector of my originals where I know that it will be treasured. As 'retired from meeting clients face-to-face, one of my adult daughters arranged the viewing and assisted the client make her selection from the half-dozen available works. Having grown family following your footsteps is terrific. One of my granddaughters is a talented author.

Best wishes, and happy creativity to you.:-)

My Australian rural-lit books are available at http://www.rural-lit.com
Cheers, Ryn.