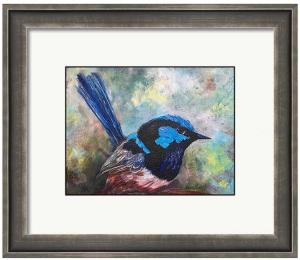 This is the first of a planned series of small paintings of the fairy wrens that visit my Goulburn Valley county home. The superb fairy-wren (Malurus cyaneus), also known as the superb blue-wren or colloquially as the blue wren, has been voted as Australia's most loved bird. I'm in the process of painting three more small fairy wren pictures to complete what will be a set off four works that will be available to order as small prints, cards, decor and gift items through FineArt America.

I travel extensively to draw inspiration for my paintings and writing from life experience.
You will discover my Australian rural-lit novels at www.rural-lit.com

​Ryn Shell.