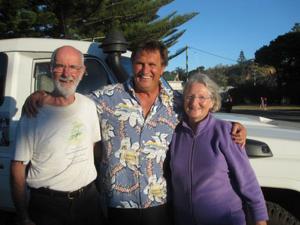 Today I had the pleasure of meeting Australian entertainment legend Frankie J.Holden. Frankie J. Holden is an iconic, Actor, Singer, Entertainer and now a Holiday Park Owner!

Frankie J Holden told me of his plans, with partners Laurie and Di Dellavirgin and Garry and Narelle Hetherington, formerly of the acclaimed "Holiday Hub", at Pambula, to turn an already lovely caravan park in a magnificent natural setting, into a park to be known as the "Little Park, With A BIG Heart". Frankie J. Holden wants to bring the very best features he sees at many of the parks he is visiting in his travel show hosting, back to the Tathra Tourist Park.

We chatted about these plans he has for this park and his travel hosting role in the programme What's Up Downunder being presented by Channel 7on Saturday afternoon. This show brought the world of caravanning into viewer's homes and was a hit with gray nomads and families alike.

The show was co-hosted, by this musician and actor Frankie J Holden and his wife Michelle Pettigrove and features their daughter Georgia and guests.

What's Up Downunder focused on caravanning, camping, touring, self-drive and fly-drive holidays promoted through holiday parks. It will also showcased regional tourism in Australia. Staying in holiday parks had come a long way over the years, with consumers now able to choose many different product offerings from standard powered and unpowered sites for luxury spa cabins and more.
What's Up Downunder went to air on The Seven Network, including all regional affiliates on Saturdays between 4 pm and 5 pm.

~~~
I travel extensively to draw inspiration for my paintings and writing from life experience.
You will discover my Australian rural-lit novels at www.rural-lit.com

​Ryn Shell.