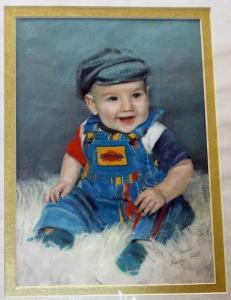 This portrait of David is one that I painted in pastel pencils during my years as the resident artist at the award-winning Buninyong Gallery near Ballarat, Victoria, Australia.

The wonderful things about being a trained artist and author are that your talent will earn you an income no matter where you reside in the world. I also visited San Fransisco on several occasions, taking commissioned Australian landscape to clients there and visiting such beautiful locations to paint as Yosemite in California, and then heading off with my husband and young family to paint in the islands of the South Pacific.

Art and writing have combined to provide me with a wonderful career which involved meeting wonderful people and visiting places most only dream of seeing.

It would be harder for genuine trained artists these days as computer technology makes it difficult for art collectors to tell the difference between an actual painting and paint or pen touched up photocopy.

I now video myself creating my art as proof of authenticity, or I'll paint a work in a masterclass situation as a demonstration for other artists. I'll always have a witness to confirm my work is art and not a photo manipulation. I love to see the brushwork and the process of creating the art. I love art that sets itself aside from a photo and becomes so much more. Even so, I've enjoyed all of the realist portrait commissions I've painted during my gallery exhibiting years.
A realist portrait such as this would have represented a month's work. Writing a novel, or a series of novellas takes me a year. Tonight I'm working on a small portrait of a caboodle using alcohol ink pens.

As I am a septuagenarian and settled into my rural retreat with its expansive views across the Goulburn Valley in Australia, I now have the luxury of writing the novels I desire to and not what publisher's demand, and I can paint for the sheer joy of the creative process and please myself if I'm choosing to accept commissions or not. I tell younger people who are struggling with a mortgage and putting their children through university, that life will get easier. I've loved every stage of my life, but these. my senior years are the most rewarding.

Life is more straightforward and infinitely enjoyable after sixty years of hard work which got me to this stage where I could retire comfortably if I chose. I choose to keep working. I have loved, and I still love every moment of my creative life. Yes, life is good.

Happy creativity.

My Australian rural-lit books are available at http://www.rural-lit.com
Cheers, Ryn.